Register open for applications DNA Kinship analysis and changes in DNA Source Level
On the 18th of July, the Board of Court Experts approved the Standards of Human DNA analysis and interpretation, including the subfields of Kinship Analysis and Activity Level reporting. Kinship Analysis is now open for registration.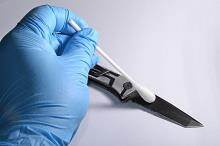 It will take until autumn 2020 before Activity Level reporting will open for registration. Additionally, the standards for DNA Source level have changed to create more opportunity for experts to register while preserving the high standards required for registration (see below for additional information concerning the changes in Source Level).
The NRGD distinguishes the following subfields within the field of Human DNA Analysis and Interpretation:
001.1 DNA Source Level - open for registration
001.2 DNA Kinship Analysis - open for registration
Why apply for registration?
The 'Experts in Criminal Cases Act' came into effect on 1 January 2010. Since then, commissioning parties (courts, prosecution) have had the legal obligation to provide a justification when they appoint an expert who is not registered in the NRGD. The commissioning parties can use the register to quickly check whether an expert is qualified. As a registered expert, you have been objectively assessed by an independent expert committee and therefore have a public and legal acknowledgement of your forensic expertise.
How to apply for registration?
The following documents are important for your application:
Standards Human DNA Analysis and Interpretation
Application Form
List of Case Information DNA
Checklist Application Package DNA
Overview Continued Professional Development DNA
Certificate of Good Conduct (for Dutch applicants)
Correspondence
The NRGD will correspond with you by e-mail in Dutch or English. Please send your application to beheer@nrgd.nl.
How long will the registration procedure take?
Although we understand that it would be reassuring for you to know how long the registration procedure will take in total, this is difficult to say because the received applications will be assessed in clusters. The NRGD strives to process the registration procedure as swiftly as possible. If you have any questions about the procedure, you are welcome to contact one of our colleagues at NRGD.
Additional Information
DNA Source Level
The requirements to be registered as a Source Level Expert have been broadened compared to the current standards. Consequently, more people who work on DNA analysis and the interpretation of DNA profiles can be registered.
The NRGD noticed that many experts are not registered as DNA experts while they perform many DNA analyses and interpretations. To be able to include those people in the register we have changed some of the prerequisites to a somewhat milder version. For example, in the current standards an expert on Source Level should be able to formulate and perform an examination strategy. For the new Standards the expert is required to have understanding of the chosen strategy and be able to explain it. As a result, they do not require the competences of the tasks but only the knowledge concerning it. Furthermore, we have removed tasks from Source Level that are currently not carried out by all experts, and moved these tasks to Source Level Extended.
DNA Source Level – Extended
The applicants for the basic Source Level will be assessed on more general competencies. As a result, experts are not acknowledged for any additional competencies they might possess. Consequently, we have added DNA Source Level Extended containing specific tasks that are not generally performed by all DNA experts. In case an expert performs one of these tasks, they should indicate this and they will be assessed on those tasks as well. When an expert is asked to perform a task he/she is not proficient in then they should indicate this to the commissioning party in accordance with the NRGD Code of Conduct. NRGD registered experts who do not follow the code can be addressed by the NRGD. In order to make it as easy as possible for the users of the register we do not distinguish between basic and extended DNA experts in the register.
The tasks that currently fall under Source level Extended are:
Y-chromosomal DNA Analysis
Mitochondrial DNA Analysis
Formulation and execution of an examination strategy
Cell Typing
Transitional arrangement
From the day of effect of Standards version 4.0, the experts previously registered with NRGD in the field of DNA Analysis and Interpretation are considered competent at the new subfield of DNA Source Level and will remain registered as such up until their reregistration/expiration. DNA experts registered under a previous version of the Standards are considered to have a level of expertise similar to the tasks as described in the Standards under DNA Source Level including the extended tasks Y-Chromosomal Analysis and Examination Strategies.
For more information on requirements and boundaries of the renewed field DNA Analysis and Interpretation, please visit the Standards Human DNA Analysis and Interpretation on this website or contact the NRGD via beheer@nrgd.nl.